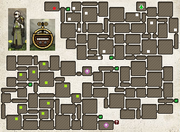 Notes: Player needs to transport a balloon with himself for the first part of the mission and it will be necessary to collect it again from Beatrix if it is lost (that happens after the player is hit thrice). Player is able to checkpoint jump while holding the balloons.
Ad blocker interference detected!
Wikia is a free-to-use site that makes money from advertising. We have a modified experience for viewers using ad blockers

Wikia is not accessible if you've made further modifications. Remove the custom ad blocker rule(s) and the page will load as expected.