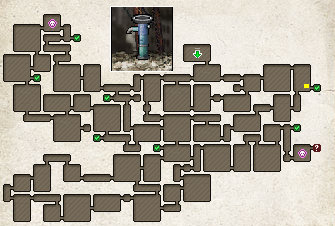 The Water Pump is the only source of fresh water on the ground and the only place where you can fill your Empty Water Can.
Sprocket Data
Edit
From Machines: Water Pump:
The Water Pump has been recently been installed in Steam City by the Rooks. When you have an Empty Water Can, you can use the pump to fill it back up with water. Recruits are asked not to drink any water from the Water Pump just yet.
The room contains two silksnakes and two hazebugs. The full map is shown below.
Ad blocker interference detected!
Wikia is a free-to-use site that makes money from advertising. We have a modified experience for viewers using ad blockers

Wikia is not accessible if you've made further modifications. Remove the custom ad blocker rule(s) and the page will load as expected.