Trenchfoot Sightings! is a group of Nidarian Guard-exclusive Daily Quests given by Cypress. Each quest requires you to kill 20 Trenchfoots in one specific subarea. The rewards for each of these quests are 10
Brass, 25 XP, and 2 Earl Grey Teas. Besides the Mimicology Quest, these quests are the only way to farm Trenchfoot Trophies.
Locations
Edit
Copperstone Mine
Edit
Deadrock Canyon
Edit
Destroy 20 Trenchfoots (#/20) in Deadrock Canyon.
Paydirt Summit
Edit
West End Ruins
Edit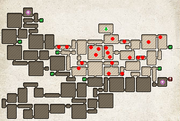 Related Links
Edit
Ad blocker interference detected!
Wikia is a free-to-use site that makes money from advertising. We have a modified experience for viewers using ad blockers

Wikia is not accessible if you've made further modifications. Remove the custom ad blocker rule(s) and the page will load as expected.