Sycamore is the receptionist for the Housing Department in Sprocket Park. You can buy additional floors for your float from him for 43 Kreds or move your Float into another cluster (for free). He is a Ferric, tribe unknown, and comes to Nidaria with his brother, Cypress. He seems incredibly bored with his job, but won't complain as his brother enjoys working at the Mimicology Department, which is right next door.
Sidequests
Edit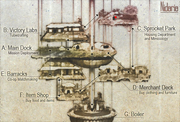 Ad blocker interference detected!
Wikia is a free-to-use site that makes money from advertising. We have a modified experience for viewers using ad blockers

Wikia is not accessible if you've made further modifications. Remove the custom ad blocker rule(s) and the page will load as expected.