---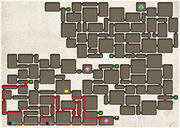 Brief: Recover the Remnant at the Blueridge River
From: Deployment Officer
Location: Ridgeback Highlands - Deadrock Canyon
Prerequisites: ?
Objectives:

Defeat the Mimic Guardian
Recover the Remnant
Return to Mission Deployment

NPC: Thanks to the Banderos, the cable cars are up and running again. The crashed car has been removed, and now we can make our final press to the Skystone Remnant. We believe the Remnant lies deep in Deadrock Canyon, on the banks of the Blueridge River. Be careful as you travel, because one wrong move could send you down the raging river. The Banderos speak of a monstrous creature that lives along the banks called the Riverfang. Defeat this Guardian Mimic and retrieve the third Remnant! Good luck!
Reward: A New Sprocket (Skystone Remnants: Inscription), Bandero Boots, Ridgeback Highlands Trophy, 200 spores
Notes: Remember to unlock the River Checkpoint so you have easy access to the river if something happens. Upon unlocking this mission you gain access to the Secret Room, it is not neccesary to complete it first.
Ad blocker interference detected!
Wikia is a free-to-use site that makes money from advertising. We have a modified experience for viewers using ad blockers

Wikia is not accessible if you've made further modifications. Remove the custom ad blocker rule(s) and the page will load as expected.