---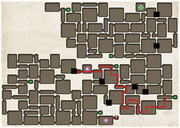 From: Deployment Officer
Location: Ridgeback Highlands - Copperstone Mine
Prerequisites: ?
Objectives:

Find and Rescue Cody
Return to Mission Deployment

NPC: Cody has vanished! He was last seen clearing a passageway in the mine. We hope that the shadow Mimic didn't have anything to do with Cody's disappearance. We need you to head into the newly uncovered passageways of the mines to find Cody, and possibly the exit.
Reward: A New Sprocket (Arsenal: Grapple Arm), Mines Column, 200 spores.
Ad blocker interference detected!
Wikia is a free-to-use site that makes money from advertising. We have a modified experience for viewers using ad blockers

Wikia is not accessible if you've made further modifications. Remove the custom ad blocker rule(s) and the page will load as expected.