---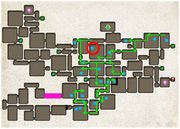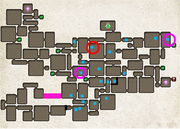 Many people may have gotten stuck on this quest because there are a few sneaky quilltoads that many people miss. The last Quilltoad could be any of the Quilltoads on the map. Most likely, however, you have missed the Quilltoad under the bridge. It is circled in red on the map to the left. If it is not under the bridge, try the purple circles.
A poster was also created to mock players having trouble with this quest and celebrate the infamy of the quest. You can buy this poster for 1800 Spores or 250 Brass at Wystan.
Ad blocker interference detected!
Wikia is a free-to-use site that makes money from advertising. We have a modified experience for viewers using ad blockers

Wikia is not accessible if you've made further modifications. Remove the custom ad blocker rule(s) and the page will load as expected.