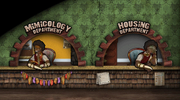 The Mimicology Department studies the behavior of mimics and is being run by Cypress. It's located in the building on Sprocket Park right next to the window where Sycamore runs the Housing Department.
Here, Cypress provides a number of quests. The majority of these are mimic studies, in which the player is asked to collect samples (body parts) from a specific mimic (each mimic is asked for in turn) as the player kills them.
Cypress also has a number of side quests, and offers a daily quest for members of the Nidarian Guard.
Ad blocker interference detected!
Wikia is a free-to-use site that makes money from advertising. We have a modified experience for viewers using ad blockers

Wikia is not accessible if you've made further modifications. Remove the custom ad blocker rule(s) and the page will load as expected.