The formatting on this page does not meet the current Formatting Standards and needs cleaning up.
Once this page has been tidied up to conform with the standards, please remove this tag.
The data on this page is incomplete.
Once the information on this page is complete, please remove this tag.
Leatherleaf is a Calluan Warrior who gives a daily quest.
Sprocket Data
Edit
From
Calluan Warriors: Leatherleaf
: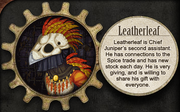 Leatherleaf is Chief Juniper's second assistant. He has connections to the spice trade and has a new stock each day. He is very giving, and is willing to share his gift with everyone.
Daily Quest
Edit
Related Links
Edit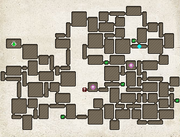 Ad blocker interference detected!
Wikia is a free-to-use site that makes money from advertising. We have a modified experience for viewers using ad blockers

Wikia is not accessible if you've made further modifications. Remove the custom ad blocker rule(s) and the page will load as expected.