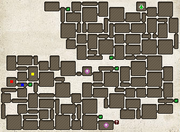 Brief: Defeat the guardians in Deadrock Canyon
From: Admiral Stanton
Location: Deadrock Canyon
Prerequisites: Mission 30 completed.
Objectives:
NPC: We've got a situation on the ground: It seems humanoid mimics and guardians have been appearing in different locations, and more often than usual. Right now we have reports of two humanoids and a Guardian in Deadrock Canyon. You'll need to use the Canyon checkpoint in Ridgeback Highlands, That's the only way to access the area where the mimics have stationed themselves. They may be stronger than the last breed you originally fought, so I'd be careful.
Reward: 50 Brass, 50 NP, 3 Digestive Biscuits, and 1 Earl Grey Tea
For the first one, walk all the way to the left, and he will be unable to get to you. Do watch out for the Stinkstrider and the Stinger.
Ad blocker interference detected!
Wikia is a free-to-use site that makes money from advertising. We have a modified experience for viewers using ad blockers

Wikia is not accessible if you've made further modifications. Remove the custom ad blocker rule(s) and the page will load as expected.