This item can be used in the Blast Furnace. 10 of this item and 3 pieces of Firewood can be made into 1 Gold Bar.
This item can be used by Nidarian Guard subscribers together with Etherite Geodes to make Attack Tubes at Victory Labs.
Quest Relevance
Edit
50 pieces of Gold Ore are required to make 5 Gold Bars for the sidequest "Late Payment" (SM0001) assigned by Sycamore.
50 pieces of this item are also a reward for completing the "Hookbilled!" (LH0001) sidequest
Dropped by
Edit
All mimics have a chance of dropping this ore but the following have the highest chance.
Farming Route
Edit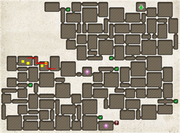 One good route for farming Gold is displayed on the left. It has been suggested that a better route may be Checkpoint jumping.
Ad blocker interference detected!
Wikia is a free-to-use site that makes money from advertising. We have a modified experience for viewers using ad blockers

Wikia is not accessible if you've made further modifications. Remove the custom ad blocker rule(s) and the page will load as expected.