Gerard is Otto von Tesla's assistant in Victory Labs, where you can forge Etherillium Tubes. He is also Nidaria's resident Fizzmaster, and will help you brew Fizzes from assorted fruits and vegetables.
Background
Edit
Involvement
Edit
Gerard's Fizzes have more health-restoring power than the fruits and vegetables that create them. You can either find Fizz ingredients from Mimic drops or purchase them from Madame Bristlecone. The most common fizz, Rosedrop Fizz, is brewed from Sweet Makopas.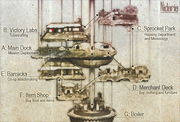 Ad blocker interference detected!
Wikia is a free-to-use site that makes money from advertising. We have a modified experience for viewers using ad blockers

Wikia is not accessible if you've made further modifications. Remove the custom ad blocker rule(s) and the page will load as expected.