One of the Camp Calluna Ferrics that can be found in the room directly before the Great Ferron Boss Room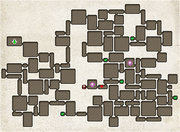 Sprocket Informations
Edit
From Calluan Warriors: Firethorn:
Firethorn is a Calluan Warrior in the Charred Forest. He has taken an interest in Trailblazing and is gathering as much information as he can on the subject.
Daily Quest
Edit
Nidarian Guard Exclusive!
Ad blocker interference detected!
Wikia is a free-to-use site that makes money from advertising. We have a modified experience for viewers using ad blockers

Wikia is not accessible if you've made further modifications. Remove the custom ad blocker rule(s) and the page will load as expected.