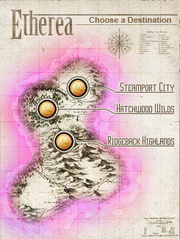 Etherea is the area of the game that holds all of the Adventure Gameplay areas. It is commonly referred to as "Ground" and is home to three areas: Steamport City, Hatchwood Wilds, and Ridgeback Highlands. The land around Etherea is covered by haze and is inaccessible. The are more areas such as Timber Marsh, Dust-Devil Valley, Grittop Mountain, Grindwell Gorge or Hazelwood.
Ad blocker interference detected!
Wikia is a free-to-use site that makes money from advertising. We have a modified experience for viewers using ad blockers

Wikia is not accessible if you've made further modifications. Remove the custom ad blocker rule(s) and the page will load as expected.