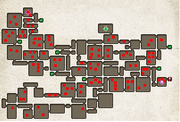 Notes: The 100 Enraged Webdanglers are spread all over Steamport City, so you have to visit every room. As they are swinging back and forth, they are hard to hit, they are hanging in hard-to-reach places often. Their HP is about the double of normal Webdanglers.
Ad blocker interference detected!
Wikia is a free-to-use site that makes money from advertising. We have a modified experience for viewers using ad blockers

Wikia is not accessible if you've made further modifications. Remove the custom ad blocker rule(s) and the page will load as expected.