---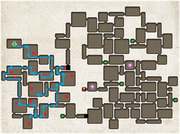 Notes: After killing one Firegrub, you might want to return to Nidaria and get "Firegrub Study" (CY0004) from Cypress to begin collecting Firegrub Heads as you kill the rest. You won't be able to finish the quest until you open the Charred Forest to have access to more Firegrubs.
Ad blocker interference detected!
Wikia is a free-to-use site that makes money from advertising. We have a modified experience for viewers using ad blockers

Wikia is not accessible if you've made further modifications. Remove the custom ad blocker rule(s) and the page will load as expected.