Cecilia is the head cook in Nidaria. She is located outside of Victory Labs. She has two new daily quests every day, one of which is exclusive to Nidarian Guard members. Each quest gives you 5 helpings of the food as a reward. For more informations on her recipes check the Baking section.
Sprocket Data
Edit
From Sprocket "Baking:Cecilia": Cecilia is the Head Rook Cook in Nidaria. She offers two meals a day for recruits and Nidarian Guardsmen. She has custom blasters to allow direct access to boiling water which comes in handy when cooking up meals.
Although she does the cooking, the player receives trophies for completing her quests.
Daily Quests
Edit
Related Links
Edit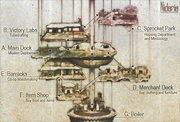 Ad blocker interference detected!
Wikia is a free-to-use site that makes money from advertising. We have a modified experience for viewers using ad blockers

Wikia is not accessible if you've made further modifications. Remove the custom ad blocker rule(s) and the page will load as expected.